vom 20. bis 27.11.2023
Black Week 2023
Sichere dir bis zu 50% Rabatt auf Sturmlaternen, Grills und Zubehör!
How to secure the Black Friday offers
Visit our website from November 20 to 27, 2023.
Choose your favorite products from the range.
You don't need a discount code! We have adjusted all prices for you
Add your desired items to the shopping cart
Enjoy your high-quality Feuerhand products at unbeatable prices!
Hurry before the offers are over!
Gratis Akku zu deiner LED
Zu jeder LED Laterne schenken wir dir den passenden Akku im Wert von 19,99€!
Dazu legst du beide Produkte in den Warenkorb und nutzt den Code " AKKU "

Möchtest du zwei Laternen, so lege auch zwei mal den Akku in den Warenkorb!
Zur Laterne
Up to 50% discount on lanterns, barbecues and accessories!
Black Friday is just around the corner and we've prepared ourselves. So you can store with peace of mind, our discounts are even available for a whole week! We're offering you the best deals of the year from November 20 to 27, 2023 with incredible discounts of up to 50%.
Don't miss this opportunity to grab great items at unbeatable prices!
Black Friday at Feuerhand is the perfect opportunity to stock up on lanterns, barbecues and accessories for the coming season. Don't miss the chance to save with our unbeatable offers.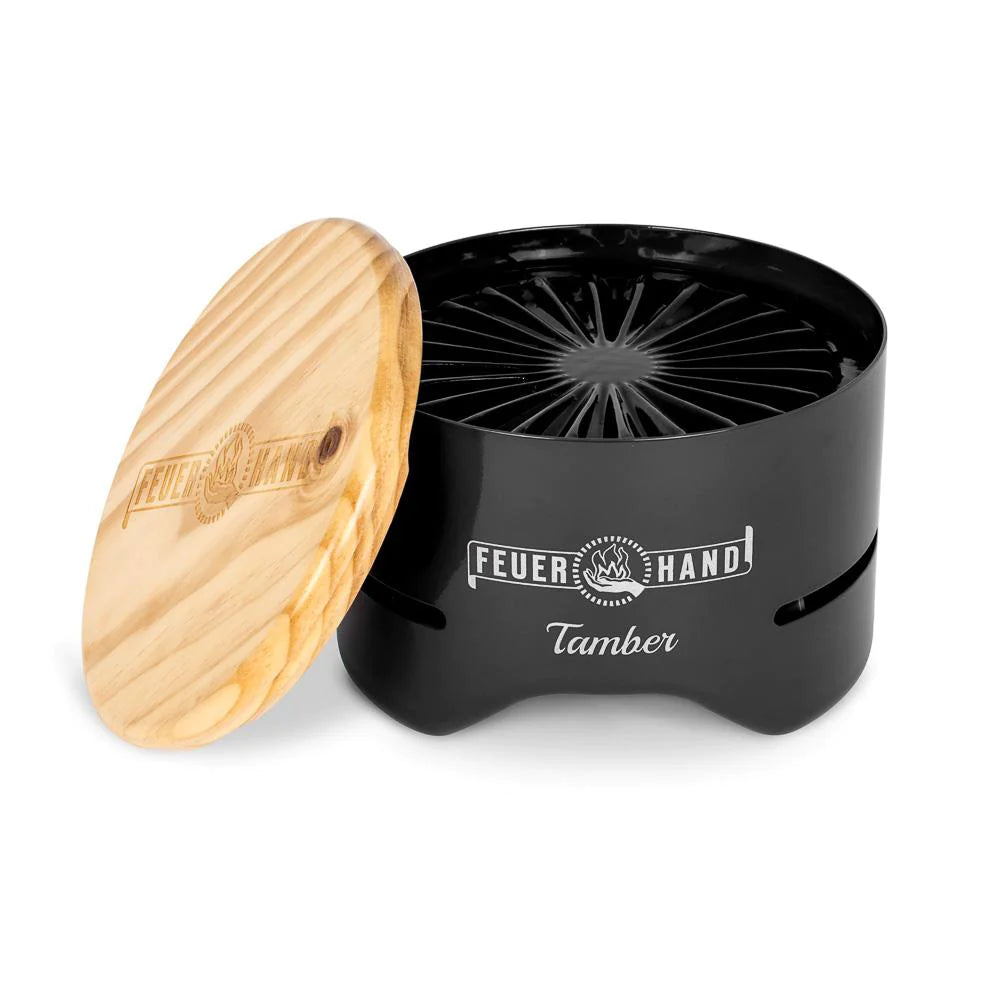 ---
Entdecke das ultimative Grillvergnügen mit dem Feuerhand Tischgrill Tamber Set! 
Starte direkt mit allem, dass du für eine perfekte Grillparty im Freien benötigst.
Der Tamber überzeugt nicht nur durch sein stilvolles Design, sondern auch durch seine herausragende Funktionalität und nahezu rauchfreies Grillen.

Eigenschaften des Feuerhand Tischgrill Tambers:

Kompaktes Design: Unser Tamber besticht durch sein kompaktes und dennoch großzügiges Design, perfekt für gemütliche Grillabende auf dem Balkon, der Terrasse oder beim Camping.

Hochwertige Materialien: Hergestellt aus robustem Stahl, garantiert der Tamber Langlebigkeit und eine einfache Handhabung. Die hochwertige Verarbeitung sorgt für eine gleichmäßige Hitzeverteilung und optimales Grillergebnis.

Verstellbare Belüftung: Mit der praktischen Belüftungsklappe kannst du die Grilltemperatur nach deinen Wünschen anpassen, um jedes Mal perfekt gegrilltes Essen zu genießen.

Leicht zu reinigen: Die emaillierte Grillwanne ermöglicht eine einfache Reinigung nach dem Gebrauch, damit du mehr Zeit mit deinen Gästen verbringen kannst.

Das Set beinhaltet:

Feuerhand Tischgrill Tamber: Der Hauptakteur deiner Grillparty, kompakt und leistungsstark.

Grillkohle: Hochwertige Grillkohle für ein authentisches Grillvergnügen, ohne Kompromisse bei der Qualität einzugehen.

Tragetasche: Die robuste Tragetasche ermöglicht einen einfachen Transport des Tischgrills und Zubehörs, ideal für unterwegs oder zum Aufbewahren.

Perfekt für unterwegs und zu Hause:

Das Feuerhand Tischgrill Tamber Set ist die ideale Lösung für spontane Grillabende im Freien oder für deine nächste Campingreise. Mit der mitgelieferten Grillkohle und der praktischen Tragetasche kannst du dein Grillvergnügen überallhin mitnehmen.

Erlebe jetzt die Freiheit des Grillens mit dem Feuerhand Tischgrill Tamber Set – ein unschlagbares Paket für Grillfreunde! Bestelle noch heute und bereite dich darauf vor, die besten Grillmomente zu erleben.
Our Black Friday highlights
Lanterns for atmosphere and coziness
Light up your nights with your new lantern from Feuerhand! Our Baby Special 276 creates a warm, inviting atmosphere, ideal for cozy evenings on the patio or in the garden. Bathe your outdoor area in soft light and enjoy the magic of lighting with real fire.
Barbecue party and table barbecue
Prepare for the perfect barbecue party! Our high-quality Tamber barbecues and barbecue accessories will make your barbecue evenings unforgettable. Invite friends and family and enjoy delicious food and good company together.
Cozyness and relaxation outdoors
Turn your outdoor area into a place of relaxation and coziness. With our kerosene lantern in many different colors, you can create an inviting atmosphere in which you and your loved ones can enjoy the peace and harmony of the outdoors. A kerosene lantern even provides some warmth at the same time!
---
Hole Dir jetzt das Black Friday Baby Special 276 Set inklusive Sturmlaterne, Laternenhalter und Lampenöl mit 30% Rabatt im Vergleich zum Einzelkauf!

Unser Set beinhaltet:

Für mehr Infos zu den Bestandteilen klicke einfach auf deren Namen.

 

Genieße warmweißes Laternenlicht im Freien:

Bereite deinen Außenbereich für unvergessliche Momente vor. Hol dir das Baby Special 276 Black Friday Set und gestalte dein Outdoor-Zuhause so, wie du es dir schon immer gewünscht hast. Entdecke die Vielfalt der Möglichkeiten und mache deine Außenwelt einzigartig und faszinierend.

Zubehör und Ersatzteile für die perfekte Ausstattung:

Ergänze deine Baby Special 276 mit passendem Zubehör und Ersatzteilen, um sicherzustellen, dass dein Outdoor-Zuhause immer im besten Licht erstrahlt. Wir bieten eine breite Auswahl an Accessoires, die deinen Anforderungen gerecht werden.
Für dich haben wir in diesem Set gleich einen Laternenhalter und das zum Betrieb benötigte Lampenöl beigelegt. Schnapp dir das Set und spare 30% im Vergleich zum Einzelkauf!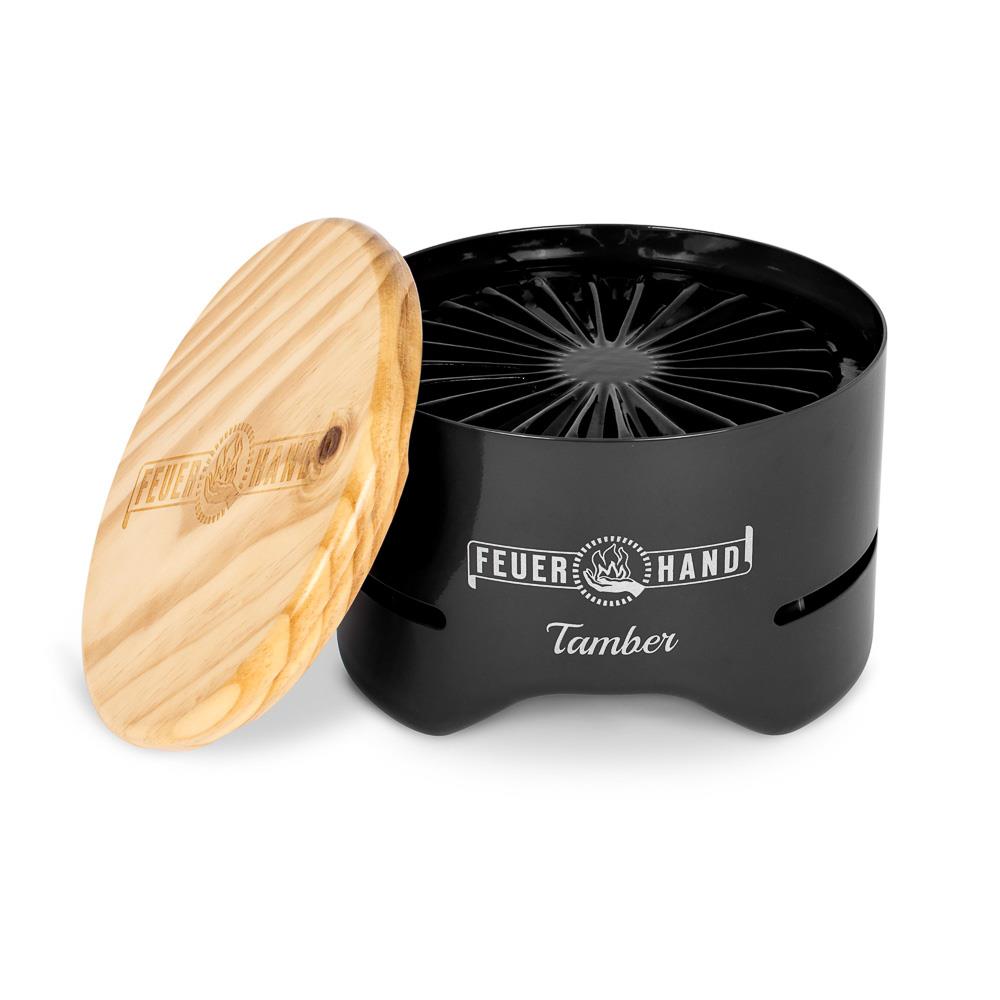 ---
Tamber is the ideal table grill for enjoyable moments for two




The Feuerhand Tamber is the ideal table grill for small dinners with your favorite person, where enjoyment and personal taste are in the foreground. While the handy table grill gently cooks your food, you can devote yourself entirely to the moment and enjoy the small, grilled delicacies directly at the table.

The Tamber lid serves as a heat-resistant coaster for your table during the grilling process and ensures that your table grill will not tip over. With the Feuerhand table grill charcoal with an all-natural ignition coating, the Tamber can be operated quickly and conveniently. After ignition, the Tamber is ready for use after 15-20 minutes. Even after grilling, the Tamber makes it easy for you, because its components can be easily removed and cleaned without any fuss. The enameled grill grate with anti-stick properties drains food liquids during grilling with the help of special drainage grooves.




Tip to finish off the evening:

After the Tamber lid has reliably protected your table from high temperatures, it serves as a perfectly fitting surface for the Baby Special 276 storm lantern, which also reliably brightens up the late evening hours. The Feuerhand Table Grill Tamber offers a deliberate and versatile grilling experience for up to 1.5 hours with only one portion of charcoal in a small, relaxed group. The Feuerhand table grill charcoal is available separately in a refill pack (1kg).




Technical data

Materials: steel, powder-coated

Diameter body: 20 cm

Diameter grill grate: 19.3 cm

Height with lid: 14 cm

Total weight (incl. lid): 2.1 kg




Scope of delivery

1 x Feuerhand Tamber cylindrical body

1 x grill grate (enameled)

1 x burner with heat protection (stainless steel)

1 x lid / coaster with logo (wood)

1 x starter pack Feuerhand table grill coal

1 x instruction manual

To the instruction manual >>
Why shop at Feuerhand.de?
Quality that impresses: At Feuerhand.de, we attach great importance to quality. Our products are durable, reliable and made by hand.
Unique products: We rely on tried and tested designs and functions that have proven themselves under our name for over 130 years, constantly evolving. Our latest innovation: the 276 Baby Special as an LED.
Outstanding customer service: Our team will be happy to assist you and answer your questions. Your satisfaction is our top priority.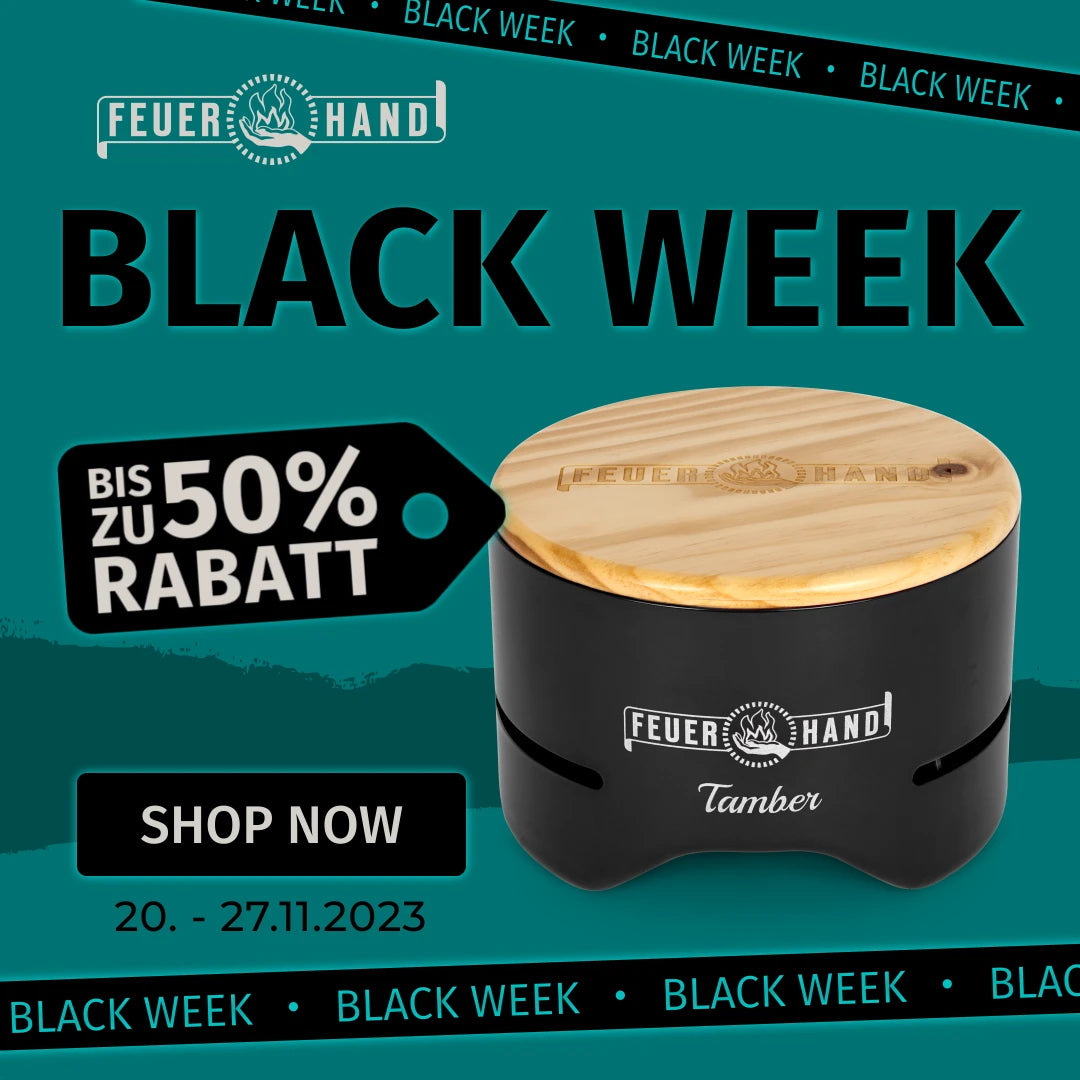 Woher kommt der Black Friday?
Originating in the USA, Black Friday has become a worldwide shopping phenomenon. It's the day when retailers like Feuerhand.de present the best deals of the year to give customers like you the opportunity to grab high-quality products at unbeatable prices. On November 20, 2023, we're transforming Feuerhand.de into a shopping paradise you won't want to miss.
What awaits you on Black Friday:
Save up to 50%: Discover incredible discounts of up to 50% on selected products from our range. Whether you're looking for high-quality lanterns, barbecues or accessories, you'll find unbeatable deals with us.
Unique gift ideas: With the holidays just around the corner, Black Friday is the perfect opportunity to find unique gifts for your loved ones. Surprise them with high-quality products that combine quality and functionality.
Exclusive limited editions: We present exclusive Black Friday Limited Editions that are only available for a short time. Get these special products before they are sold out.
Excellent customer service: Our dedicated customer service team will be on hand during the Black Friday event to answer your questions and assist you with your purchase.
How to benefit from Black Friday at Feuerhand.de:
Visit our website on November 20, 2023 and discover the unbeatable offers.
Find the products you love and add them to your shopping cart.
Use the exclusive Black Friday discount codes to secure maximum savings.
Look forward to high-quality products that will enrich your life.
Black Friday at Feuerhand.de is your chance to get your hands on high-quality products at unbeatable prices. Whether you want to upgrade your outdoor equipment, find the perfect Christmas present or simply save money - we have the solution for you.
Get ready for Black Friday and discover the best deals of the year. Feuerhand.de is your partner for quality and innovation. Visit us on November 20, 2023 and be inspired by our unbeatable offers.
Feuerhand.de - Your expert for lanterns, barbecues and accessories. Your Black Friday experience starts here!