Storm lantern Baby Special 276
dauerhaft stromlose Lichtquelle, Not- und Orientierungsbeleuchtung
Qualität Made in Germany seit 1893
20 Stunden Licht mit nur einer Tankfüllung
widerstandsfähiges Material & temperaturbeständiges Glas
umweltfreundlich verpackt
The Baby Special 276 is the indispensable outdoor lighting


For over 125 years, the Baby Special 276 has been bringing reliable light into people's lives. In doing so, the powerless light source takes a sustainable approach and consumes its fuel sparingly and efficiently. The Feuerhand Baby Special 276 is made of galvanized sheet steel, making it particularly resistant to corrosion. Colored models are additionally powder coated and available in many shades. With the Baby Special 276 you have a timeless outdoor lighting with a calm flame pattern - for moments of relaxation, surrounded by reliable light.

Choose your Baby Special 276 to match your balcony or patio design and set small light accents there. Or simply put together an entire Baby Special collection in your favorite colors for the garden party. Complete your Baby Special 276 with matching accessories & spare parts and fill your outdoor home with warm white lantern light.




With the Baby Special 276, you can enjoy your evening hours in a relaxed atmosphere or all to yourself - consistently and independent of electricity.




Technical data
Tank volume: 0.34 liters
Burn time: approx. 20 hour(s)
Material: galvanized steel, powder coated
Dimensions (W x H x D): 15 x 26.5 x 13.5 cm
Weight: 530 g




Scope of delivery
1 x Baby Special 276
1 x flat wick 12,5 mm



Light in a new dimension
Modern technology in a timeless guise
The Baby Special LED brings the classic lantern design into the 21st century.
Material
Galvanized steel - almost indestructible
Illuminant
modern LED with 2700K warm white light
Connection
USB-C for easy charging or battery operation
Versatility
Can be used indoors and outdoors
25.000h
Includes LED light source that ensures a life of at least 25,000 hours of operation.
Breite Farbpalette
Mit 21 verfügbaren Farben bieten wir für jeden Dekorationsstil die passende Auswahl.
Lange Leuchtdauer
Genieße bis zu 20 Stunden gleichmäßiges, zuverlässiges Licht mit nur einer Tankfüllung.
Optionales Zubehör
Entdecke vielseitiges Zubehör – Vom Reflektorschirm bis zum Latrnenhalter.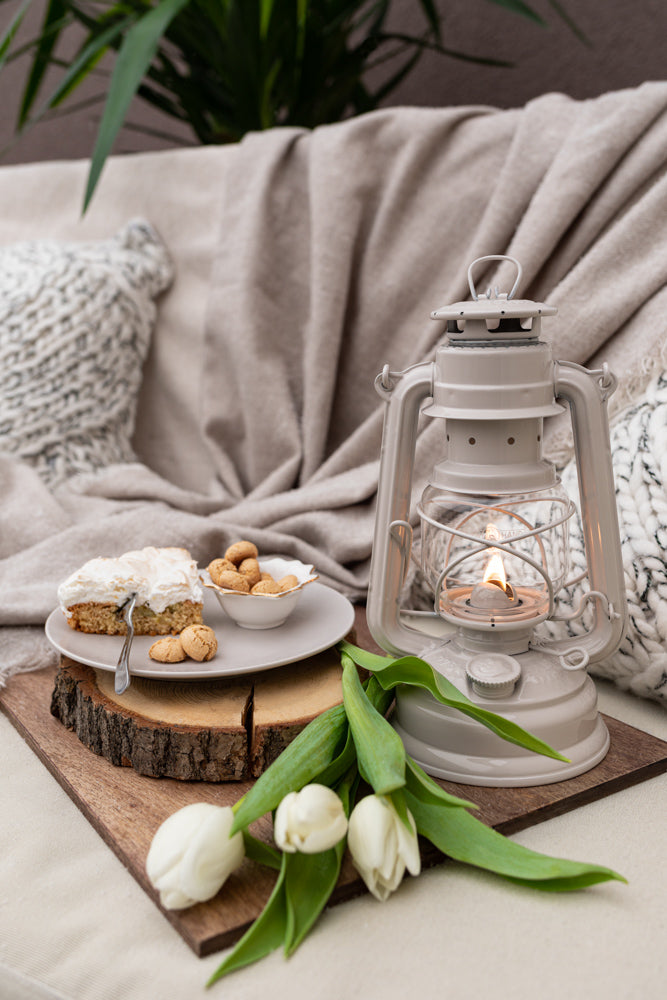 Ready for use
Flexible in any situation, reliable and best suited to spread atmospheric light.
Versatile
The Baby Special 276 LED lantern matches many accessories from the Baby Special range, such as lantern holders or lantern coasters.
Eye-catcher
The retro look of the LED lantern makes it a real bright spot, whether on the terrace, balcony or conservatory.
FAQ
Du möchtest alles über die Baby Special 276 erfahren? Hier findest du die Antworten auf die am häufigsten gestellten Fragen:
Was ist eine Petroleumlaterne?

Eine Petroleumlaterne wie die Baby Special 276 wird mit Flüssigbrennstoff (Petroleum) betrieben und bietet eine unabhängige Beleuchtung ganz ohne Stromquelle. Sie zeichnet sich zudem durch ein offenes Kaltluftsystem aus, das für eine kontinuierliche Sauerstoffzufuhr zur Flamme sorgt.

Das Kaltluftsystem in deiner Sturmlaterne nutzt einen Schornstein und seitliche Holme, um Frischluft zur Flamme zu leiten. Die aufsteigende warme Luft sorgt anschließend für ein gleichmäßiges und ruhiges Flammenbild.
Welches Lampenöl eignet sich am besten?

Für die Baby Special 276 empfehlen wir hochwertiges Lampenöl, das eine hohe Brennstoffreinheit aufweist. Das Lampenöl von Feuerhand ist ideal auf die Bedürfnisse deiner Sturmlaterne abgestimmt und bietet eine geruchs- und rußarme Verbrennung. So verhindert es die Verschmutzung des Glaszylinders bietet eine maximale Brenndauer von bis zu 20 Stunden.
Wie lange brennt die Baby Special 276?

Die Brenndauer deiner Baby Special 276 Sturmlaterne hängt vom Tankvolumen ab. Mit einer Tankfüllung von 300 ml kannst du um die 20 Stunden ununterbrochene Beleuchtung genießen.
Wie stelle ich den Docht meiner Sturmlaterne richtig ein?

Um den Docht optimal einzustellen, drehe den Drehgriff am Brenner, um die Dochtlänge anzupassen. Die ideale Dochtlänge beträgt in etwa 1,5 bis 2 cm, um eine gleichmäßige Flamme zu gewährleisten.
Wie lösche ich die Flamme meiner Sturmlaterne?

Das Löschen der Flamme ist ganz einfach. An der Seite deines Brenners befindet sich ein Drehgriff, mit dem du die Dochthöhe einstellen kannst. Um die Flamme zu löschen, drehst du den Laternendocht einfach vorsichtig in den Brenner, sodass er fast nicht mehr sichtbar ist.
Was muss ich tun, wenn meine Sturmlaterne Öl verliert?

Wenn deine Laterne Öl verliert, kann dies an einer Überfüllung des Tanks, Bewegungen im befüllten Zustand oder Temperaturschwankungen liegen. Beachte stets die Füllhinweise in der Bedienungsanleitung und vermeide übermäßige Bewegungen. Sollte dennoch weiterhin Öl austreten, zögere nicht, dich an unseren Feuerhand Support zu wenden.
Wie bewahre ich meine Sturmlaterne am besten auf?

Lagere deine Baby Special 276 Sturmlaterne an einem trockenen Ort und verwende idealerweise die entsprechende Transporttasche, um sie vor Staub und Schmutz zu schützen. Achte darauf, den Tank nach dem Gebrauch zu entleeren, um das Austreten von Öl zu verhindern.
Wie reinige ich meine Sturmlaterne richtig?

Um das Glas- und deiner Sturmlaterne zu reinigen, entferne es vorsichtig, indem du die Hebeöse am Schornstein nach oben ziehst und das Glas herausklappst. Durch die Entnahme des Glases, kannst du dieses optimal reinigen. Alle weiteren Pflegehinweise findest du in der Bedienungsanleitung.
Noch Fragen offen geblieben? Du erreichst uns Mo - Do: 10 - 17 Uhr | Fr: 10 - 15 Uhr
Kundensupport
This product has no reviews yet.