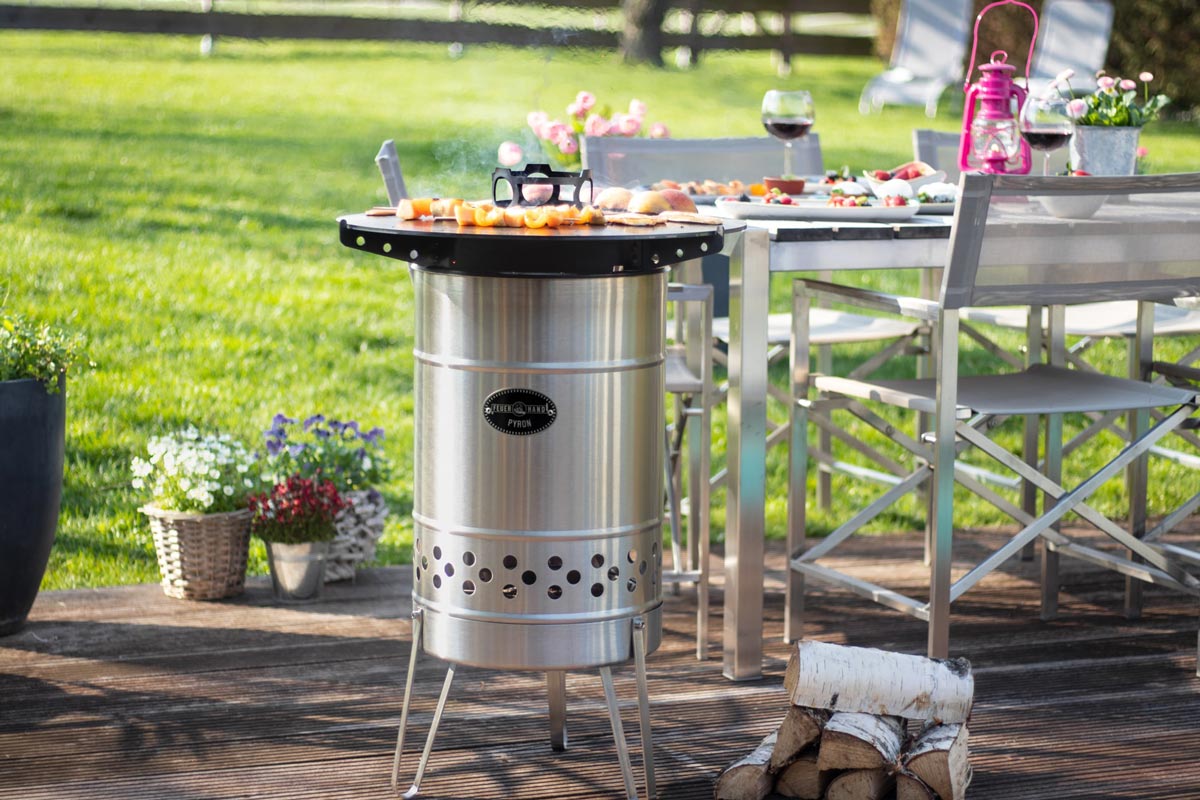 More about the grill plate
Learn from those who know about real grilling pleasure: Spanish barbecue experts have long known the advantages of a grill plate. With the Feuerhand grill plate, Spanish-traditional barbecue feeling now moves into your garden. The Feuerhand grill plate is made in Germany and is an absolute must for barbecue enthusiasts with a high demand for variation. This special barbecue experience is the epitome of conviviality and shared enjoyment. With the Feuerhand Pyron Plate grill plate, you bring the benefits of the Mediterranean grill style in a modern industrial look to your outdoor oasis.
What is a (plancha) griddle?
A griddle, also called a griddle plate, fire plate or plancha, is a flat plate with a round opening in the center. Food cooked on the smooth surface is brought to temperature by a heat source underneath.
The Pyron Plate grill plate from Feuerhand is designed for the Pyron fire barrel. From below the fire blazes in the fire barrel and brings the plate to uniquely high temperatures. Due to the size of the grill plate and the different heat exposure, there are also different heat zones. The further you place your food near the central cooking cross, the higher the temperatures. This allows for a lot of variability, from searing near the center to post-cooking on the outer edge. With the German-made Pyron Plate grill plate, you have a special kind of grilling experience that is already very popular in Spain and France.
Which oil is recommended for the (plancha) grill plate?
To grill successfully on your plancha, you need the right oil. If you like healthy cooking and frying, you have all the possibilities with the Pyron Plate grill plate. But when it comes to oil, you should avoid olive oil or other types of oil with a low smoke point that can't handle the temperature.
Your fire plate will get very hot, so oils with a high smoke point that can be heated very high are ideal. As healthy as some oils may be, only highly heatable oils and fats, such as sunflower oil, soybean oil or peanut oil, belong on the griddle.
What do you grill on the (plancha) grill plate?
There are no limits to your grilling fantasies on a grill plate or plancha. Whether fish, meat, vegetables or even fruit, with the grill plate you give your savory or sweet specialties an incomparably intense roasted flavor. Thanks to the integrated cooking attachment of the Pyron Plate griddle, you can easily prepare other side dishes in a saucepan at the same time. The ring in the middle also prevents any of your delicacies from falling into the flames. You have an ideal working height and can reach every position of your grill plate unhindered.
What material should a grill plate be made of and how strong should it be?
Grill plates or fire plates are mainly made of stainless steel or steel. These materials are characterized by particularly high conductivity and heat distribution. High-quality grill plates have a material thickness upwards of 5 mm.
The Feuerhand Pyron Plate grill plate is manufactured in Germany and is made of 6 mm thick steel. This makes it robust enough to retain its shape even at permanently high temperatures.
Why is a grill plate so good?
Stylish grilling or barbecuing on the terrace are very much in vogue. It's all about consciously grilling culinary specialties in all their versatility. You can prepare your meat, fish and vegetable dishes on the grill plate and also cook fruit or desserts like pancakes. A grill plate provides infinitely flexible enjoyment.
So that you can be sure of that, here are all the advantages of the Pyron Plate grill plate for you at a glance:
Application possibilities:
- Grilling with easy separation of veggie, meat and dessert grill food

- Through the cooking attachment parallel preparation in the upright pot also possible
Anti-stick effect:
- Natural anti-stick effect after baking, without any coating at all due to the patina that forms.
Temperature regulation:
- Achieve high temperatures through the wood carburetor principle of the Pyron fire barrel.
- Variable grilling and cooking options possible due to different heat zones
Durability:
- Robust steel
- Made in Germany
Practicality:
- Hassle-free grilling of small delicacies that might otherwise fall through the grill grate
- Grilling at ideal working height
- Easy access to the grill plate from all sides
- Conveniently add wood during the grilling process through the opening in the middle of the grill plate
Grill circumference:
- Grilling even in a large round due to the extra large plate diameter of 57 cm.
Cleaning:
- Easy cleaning with water and scraper, without detergent
The Pyron Plate grill plate from Feuerhand, made in Germany, in combination with the Pyron fire barrel, is a modern grill in a class of its own. With it you make a strong design and taste statement and bring the sophistication of real grill experts simply to your home.
What is better grill grate or grill plate?
Grilling on a plancha or griddle is the modern, Mediterranean version of grilling. If you use a flat surface like the grill plate, you won't get any roasted stripes, but you will still benefit from the absolute roasted taste. Food that can easily fall through the grill grate during normal grilling processes has a safe place on a grill plate. The slightly downward curved grill plate also keeps food liquids in place. So your patio is permanently protected.
In addition, desserts, burger patties or fried eggs can also be easily prepared on a grill plate. The Pyron Plate grill plate from Feuerhand has a diameter of 57 cm. With this miracle of space, you can feed your whole family or your closest friends at the same time. Thanks to the different heat zones, your meat, fish or vegetable specialties will turn out just right - and with the corresponding attachment, you can also cook on the side.
It's hard to imagine Spanish and French cuisine without fire plates. Experts in exquisite cuisine have long been convinced, which is why the grill plate with German quality is also increasingly making its way into European gardens and terraces.
How to clean a (plancha) grill plate?
Cleaning a grill plate is very simple, no aggressive cleaning agents or even steel brushes need to be used here. The Feuerhand grill plate Pyron Plate is burned in before the first use. This creates a valuable patina, which continues to form with each use. This must be preserved in any case, because it prevents food from sticking to your grill plate. You should therefore avoid cleaning procedures that attack your patina.
It is sufficient to rinse the grill plate with clear water after it has cooled down and remove any residue with a scraper. Please do not use detergent, as this would destroy the patina. After cleaning, you should dry your grill plate well, rub it with a heat-resistant and long-lasting oil and store it in a dry place. You can also find helpful tips on this in the instructions for use.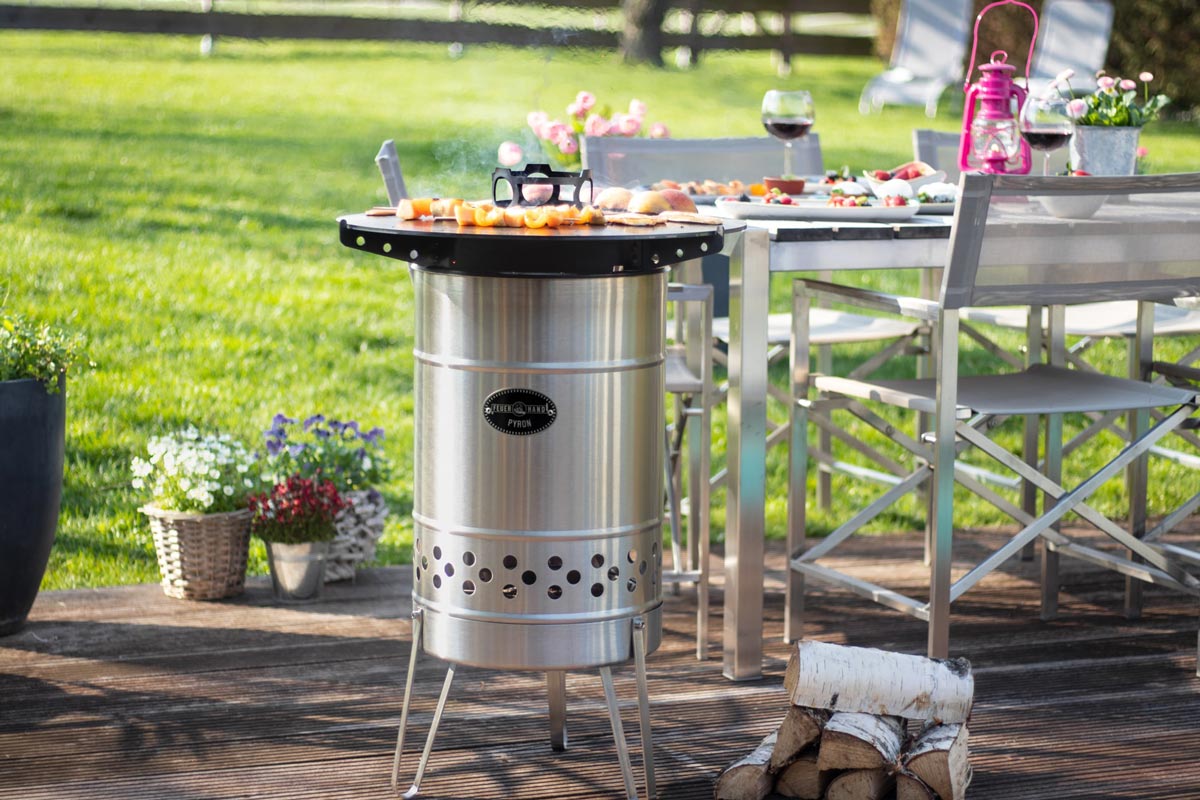 How to burn in a grill plate?
Before the first use, it is necessary to burn in the Feuerhand Pyron Plate grill plate. For this you need a heat-resistant oil. You first light the fire in the Pyron and place the Pyron Plate on the three-armed support frame of the Pyron.
An important note for you:
When the Pyron Plate is first heated, it will bulge. Due to the material, it is not possible to predict whether it will bulge upward or downward. If it does curve upward, remove the cooking attachment with fireproof gloves and place it on a heat-resistant surface. Then turn the plate completely around so that the bulge is facing downwards and carefully replace the cooking attachment. You can then begin firing the Pyron Plate.

The Pyron Plate is factory coated with a food grade kerosene oil to prevent corrosion. However, your Pyron Plate must be baked before you can use it. To do this, apply a heat-resistant oil, such as linseed oil, canola oil, or pumpkin seed oil, to your griddle so that a film forms. Spread the oil, such as with a brush, over the entire surface. Put the Pyron Plate on your Pyron that is in operation. Wait until the oil stops smoking. After some time, your grill plate will darken in places or over a large area and the typical patina will form. Remove the grill plate from the Pyron and allow the plate to cool slowly. Rinse the grill plate with hot water and carefully remove any residue. Finally, dry the plate well and re-oil it. Use one of the oils mentioned above.
Then repeat the baking process two more times: Coat the Pyron Plate with oil, wait until the oil stops smoking, let the plate cool down, wash it with water and carefully remove any residue. The Feuerhand Pyron Plate is now ready for use. After each further use, it is sufficient if you rinse the plate with hot water or rub it with a kitchen paper. There should always be a thin layer of oil/grease for corrosion protection. The baking process can be repeated as often as necessary. You will also find information on the baking process in the instructions for use.