What can you do with a fire bowl?
With a fire bowl you set your exterior atmospherically in scene. Whether for relaxing alone or in a social gathering, fire in a fire bowl spreads calm and silences any everyday thoughts. The warming flames and gentle light are what make a fire bowl and contribute to the atmosphere in your garden or on the terrace.
However, the Tyropit fire bowl does not only provide atmosphere in the twilight. With its elegant design, the Feuerhand Tyropit fire bowl makes a visual statement and stylishly enhances your garden. In addition, it is very sophisticated in its construction. It has a double-walled body with air holes on the outside and inside. These air holes provide continuous air supply and keep the fire going for a particularly long time. At the same time, they enable a process that results in particularly low-smoke combustion: the wood gasification principle. This also pleases the immediate neighborhood. The Tyropit fire bowl also has a heat shield that protects your base from the effects of heat.
Fire bowl Tyropit - the crackling center in your garden




With the Tyropit fire bowl, you can bring the romance of a campfire into your garden and social gatherings around the crackling flames will become unique moments. The double-walled body made of high-quality stainless steel surrounds the wood fire protectively and ensures an almost smoke and soot-free combustion through specially positioned vents. So you can celebrate evenings full of light and warmth - friendly to the environment and to the neighbors.




The Tyropit fire bowl made of stainless steel in industrial design convinces with its efficiency and functionality. The material is particularly durable and acquires a distinctive and characteristic patina over time. Three stable legs ensure a secure hold on your patio floor and the integrated heat shield protects sensitive surfaces.

With the Tyropit stainless steel fire bowl, you can bring your favorite people to your backyard bonfire or enjoy the cozy atmosphere all to yourself.




Technical data
Diameter at the top edge (outside): 57.8 cm
Diameter at the top edge (inside): 50.6 cm
Required footprint: 62.3 cm
Height with legs: 35.5 cm
Material: stainless steel
W x H x D: 34.9 x 57 cm
Weight: 12.1 kg

Scope of delivery
1 x Cylindrical body (inner jacket & outer jacket riveted)
1 x Charcoal grate
1 x Ash tray with radio dome
1 x Heat shield
3 x Bracket with thread
3 x Support legs
6 x Hexagon socket screw
6 x Washer
1 x Hexagon socket wrench for mounting the support legs
1 x User manual



In a fire bowl like the Feuerhand Tyropit, you don't just make any fire, you make the fire: with an exceptionally appealing flame pattern with reduced smoke development in a stylish and high-quality look. Thus, the fire bowl becomes a cozy focal point of your garden. You can also roast marshmallows or bread on sticks in a particularly pleasant way, while the impressive flame image lets you forget about everyday life.
What do you have to consider with a fire bowl?
Even though the fire in your Tyropit fire bowl can be easily controlled, it is an open fireplace, so there are some points to consider.
Here is a summary of the most important tips for operating your fire bowl:
Criteria

Surface:
Operation on a surface that is insensitive to heat (e.g. stone or sand).
Environment:
Sufficient distance from bushes, shrubs and other easily flammable objects.
Ground distance:
Sufficient height of fire bowl or integrated heat shield downward
Material:
Steel, cast iron or stainless steel
Practicability:
Easy assembly
Easy relocation of the fire bowl
Handling of ash residues (e.g. removable ash collection tray)
Even if you keep enough distance to your neighbors and easily flammable objects, the most important thing is to follow local guidelines such as forest fire warning levels.
Check with local authorities to find out when and how often it is permissible to operate your fire bowl on your property or in your backyard. You can also find information in the Federal Immission Control Act. Often the size of the fire bowl also plays an important role, because this can be decisive for whether you have to obtain an official permit for the start-up. In any case, attention should be paid to a low smoke emission for the benefit of the neighborhood.
With the Feuerhand Tyropit , you are on the safe side in all points that you can influence yourself. With its integrated heat shield and sufficient ground clearance, you can protect your patio floor from excessive temperatures. The enclosed tool enables you to mount it quickly. The handling of the durable stainless steel fire bowl is particularly practical and emptying it is made easier by the removable ash tray. Due to its low-smoke burning method, the Tyropit fire bowl is a particularly pleasant garden centerpiece that also pleases the neighbors. The Tyropit provides the safe and cozy warmth that brings you and your loved ones together on the patio or in the garden.
What is the cost of a fire bowl?
The cost of a fire bowl varies depending on the quality and size. The Tyropit fire bowl is made of robust and high-quality stainless steel and also has a particularly low-smoke combustion, which is due to a sophisticated design and the inner spark dome.
With its footprint of 62.3 cm, the Feuerhand fire bowl is the ideal size for an extensive garden fire and can be transported by one person with its practical dimensions when cooled down. The stylishly designed fire bowl is available including closed ash tray and heat shield for 329.99 € .
Which is better fire basket or bowl?
A fire bowl has a predominantly enclosed shape. The fire stays in place in a controlled manner, and logs or sparks are prevented from falling out the side. In addition, ashes are collected unerringly.
A fire basket allows continuous air supply from all sides due to the open lattice shape, which keeps the fire alive for a long time and allows it to burn efficiently. In addition, a fire basket allows an unobstructed view of the flame pattern.
The innovative Tyropit fire bowl combines all the advantages of a fire bowl and fire basket: the Tyropit has a precisely fitting, removable ash tray as a collection container and is thus closed at the bottom. In addition, it has lateral ventilation openings in the double wall, each of which is offset and ensures optimum oxygen supply. A radio dome integrated into the ash pan also guarantees a continuous air supply from below. This ensures that your Tyropit burns efficiently for a long time, while at the same time the fuel remains protected inside the fire bowl. Due to the appropriate height of 35.5 cm, you have a clear view of the flames at all times.
So if you want to have all the advantages together, the Feuerhand Tyropit is the right fire bowl for you. Safe and relaxed, you can enjoy your evenings alone or in company in an idyllic atmosphere.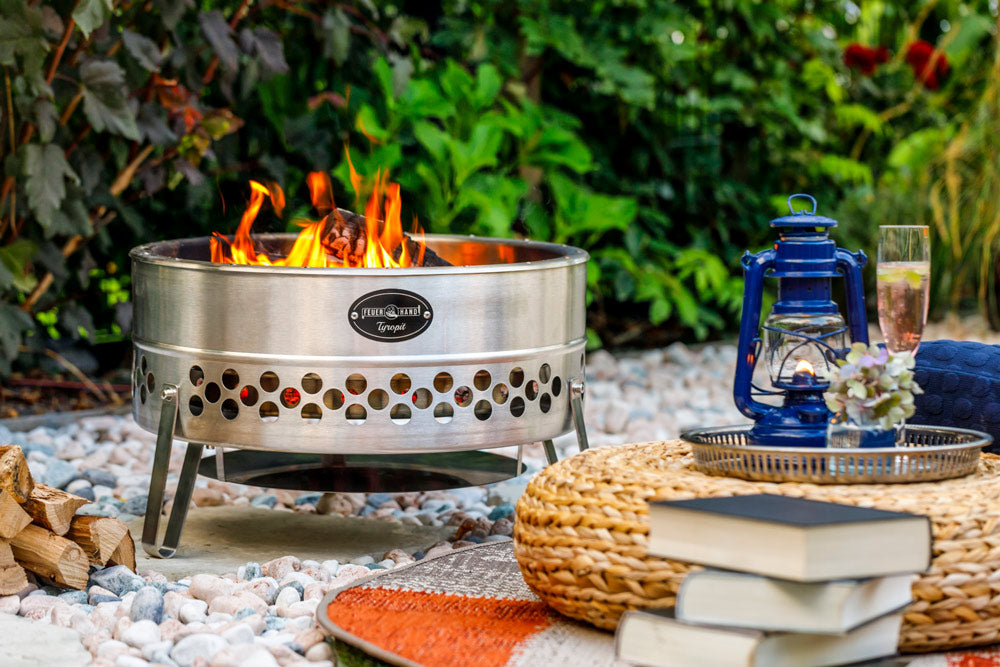 Which fire bowl is the best?
If you are looking for a fire bowl that meets your individual criteria, here are a few suggestions to help you determine which fire bowl is best for you: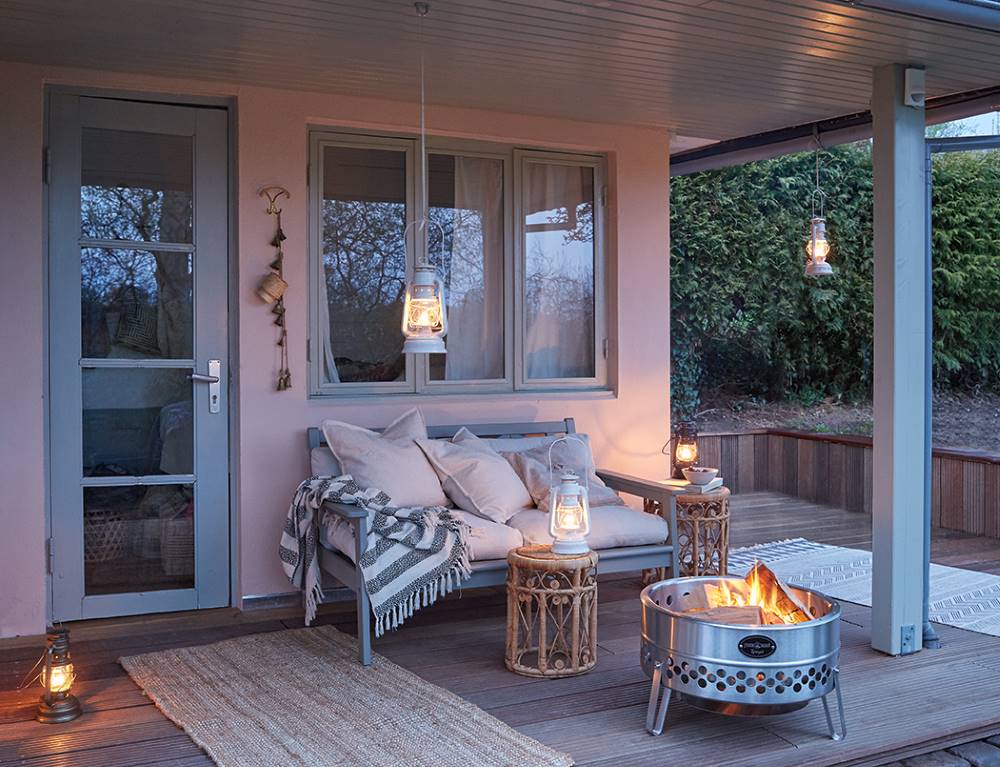 How big should a fire bowl be?
Depending on the supplier, you can get fire bowls in different sizes and for different applications. An appealing fire needs some space. Common sizes for fire bowls are between 60 and 100 cm in diameter.
Keep in mind, however, that a large fire may be subject to stricter requirements in terms of licensing, even if it is in a fire bowl. In addition, it is important that you always make sure that your fire bowl is at a sufficient distance from flammable materials such as bushes or shrubs.
What material is suitable for a fire bowl in the garden?
Fire bowls are offered in different material compositions. The Tyropit fire bowl is made of stainless steel. This particularly pure steel is considered insensitive to rust. Nevertheless, you should make sure that you always clear your fire bowl of ash residue and store it in a dry place, because ash and moisture can cause rust - even in stainless steel. Stainless steel is durable, does not deform even at high temperatures and remains visually appealing for a long time, so it is a very suitable material for a fire bowl.
Can you grill in a fire bowl?
Some fire bowls offer an additional grilling function. Tyropite fire bowl is an aesthetic garden element, over which you can happily roast a few marshmallows. However, this classy fire bowl doesn't deserve dripping cooking grease. If you want to grill in style, the Feuerhand Pyron combined with a grill plate, like the ones you know from your vacation in Spain, is perfect. With this plate, all kinds of delicacies can be prepared at a high level - not on the basis of a fire bowl, but on a high-quality fire barrel, which is equally a dignified eye-catcher in a modern industrial look on the terrace.
Which fire bowl does not rust?
Stainless steel fire bowls such as the Tyropit are described as particularly resistant to rust. However, even this fire bowl should not simply be left out in the rain. If there is still residual ash in your fire bowl, rust can develop even on your stainless steel fire bowl. We explain why:
Ash, when combined with water, leads to a reaction that causes flash rust to form in a very short time. Since burning wood always leaves ash behind, this reaction occurs quickly if there are ash residues in your fire bowl and they come into contact with rain or humidity. By the way, prolonged storage near steel or very salty air can also cause flash rust in stainless steel.
The Tyropit fire bowl has a removable ash tray, which makes it easier for you to remove the ashes and get to all the places on the fire bowl where there might be extra ashes. Once your Tyropit has cooled, remove the ash pan and empty it. Then wipe out your fire bowl and ash pan with clean water, a mild dishwashing detergent, and a soft cloth or sponge, and dry them thoroughly right after.
Only extinguish your fire bowl with sand or a powder fire extinguisher in an emergency. You should avoid extinguishing the fire with water, as this can promote flash rust and cause stresses in the material due to the sudden change in temperature, which can damage your fire bowl.
After some time, a patina will form on the stainless steel surface of your Tyropit. This is not the same as rust, but merely a natural occurrence due to the firing process. A stainless steel cleaner and stainless steel wool can be used for coarse soiling. For a nice shine, you can also treat your tyropite with a commercial chrome polish after cleaning.
If you protect your fire bowl by cleaning it well, taking care of it and always storing it in a dry place, you will enjoy it for a very long time.
How does the wood gasification principle work?
In the lower section of the double-walled stainless steel body, there are holes in both the outer and inner areas, which ensure an ideal oxygen supply. When the fuel is placed on the charcoal grate of the Tyropit fire bowl or the Pyron fire barrel and lit, the fire gets going particularly quickly through the air holes and is kept alive by them for a very long time. Up to this point, we speak of primary combustion.
In addition, there are also air holes in the upper section on the inner sides of the double wall. These form the basis for the wood gasification. As the fire blazes on the charcoal grate, the heated air and resulting wood gases rise upward between the two walls. These escape at the upper air holes and even before they can rise out of the body, the flue gas is burned by the rising flames at exactly this point. This is the secondary combustion and this well thought-out combustion mechanism is called the wood gasification principle.
Through this operating principle, both the Pyron and the Tyropit achieve effective and low-smoke combustion, making them both particularly attractive fireplaces for the garden and patio. These two innovative Feuerhand products are thus not only stylish highlights that bring your oasis of well-being even more into focus. Through the combustion of wood and flue gas, only a few emissions are released into the environment, so they are also good for the environment, your health and your neighbors. You can let yourself be captivated by the unique play of flames of the Feuerhand fire bowl or barrel with a clear conscience.